Blueberry Pie is an independent media production group bringing local stories to life. Through film and video, we explore connections between people, spaces and places, considering how the visual lends itself to local grassroots story-telling and idea-making.
Windchill, a 16 mm experiment
The chill of -40 Celsius creeps into you faster than one hundred steps across a bridge, slowing time so that an open field becomes frozen tundra and the distance between the Gatineau Hills and the Arctic Circle seems to disappear, all the while sending you to vast spaces in your imagination and inspiring warm thoughts for the remainder of the day. A 16mm continuous loop created as part of the Windows Collective City Lights commissioned program. More short film experiments to come ;)
Street painting
Sara and Lenka were happy to have had the opportunity to be part of a local street painting initiative, capturing it all in a short time lapse so y'all can check out what happens when one neighbourhood gets creative on its pavement.
It's a Living
2010, 10 mins
While Inuit art is often positioned as quintessentially Northern, of the North, it is also urban and, for the urban Inuit artist, it is a living. In this short film, the filmmakers provide a brief glimpse into the daily work of an urban Inuit carver. Images of carving and rock-hounding are contrasted with the towering presence of Inuit art in the nation's capital.
Moe & Ann, 2014, 12 mins
Mills Community Support shares the story of how Moe and Ann directed their own supports through person-directed planning. This mini-documentary shares their search for a community to call their own and the relationships that have naturally developed. Click on the river to the left to view the video.
Stitch
2013, 6 mins
Stitch briefly tells the story of the importance of their sewing tradition in the lives of three Inuit women living in Southern Canada. These women describe sewing as a tradition that provides both a connection with Inuit culture and a creative, healing outlet.
One, two, three jump!
The simplicity of a sunny day and Super8 filmmaking. Sara's children, Sam & Ellie, and their wonderful friends get the credit for this one. This short film was shot on Super8 and edited in-camera for a Windows Collective Super8 Challenge.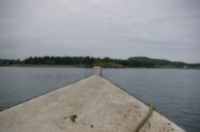 The Bay is a short experimental, documentary film that explores the spirit of the Passamaquoddy Bay, an inlet of the Bay of Fundy. The film highlights connections between the bay and the people that live around it and their commitment to protect the Bay from liquid natural gas shipping.
Aunt Sue, A Portrait
2010
Sara and her Dad had the opportunity to explore and digitize tons of 8mm footage that her grandfather shot between 1950 and 1964. This short film captures some of that archived 8mm footage in creating a portrait of her Aunt Sue.
Yum
2009, 3 mins
Shot and edited in camera on a Super 8, this captures some of the joy of pie.